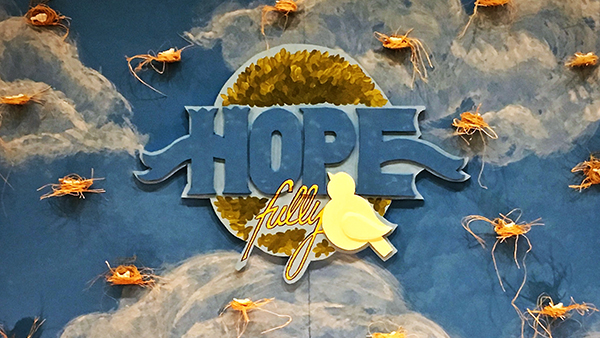 The following excerpts are from participants from the 2016 retreats. These are their words about their experiences.  May God be glorified!
The most impacting thing God taught me is y'all genuinely care. I was so touched by that, as well as the sense of family.
I loved the teachings from 1 Peter. Particularly what it looks like for us as exiles/sojourners/pilgrims. Why? Because I haven't been to church in a couple months and I needed to hear how I should be living and what Jesus should mean to me.
The colouring pages idea rocked! I enjoyed sitting with the gals chatting and colouring.
– Cindy, Canada
__________________________________________________________
I love that 1 Peter was our focus. I have often identified with Peter's inconsistency, and the Lord showed me John's gospel in a new light. I put myself in the ""now and not yet" of Peter denying Jesus, and then going back to fishing. What a weight, to have failed so much after proclaiming zeal and then cursing Jesus, denying he knew Him! What a feeling of exile to go back out and fish all night, wondering "what's next?". I have fished all night before, just praying and asking the Lord, "what now? how do i overcome the past failures and move on?". REally cool to read John 21 again and know that the same is true for me, I am restored and in relationship with Jesus, not by anything i've done, for my life has been shattered and my sin has wreaked havoc, but Jesus chose me and is still leading me out of rebellion and exile, to travel light and not hold on to how the world defines me. Also, to not hold onto my own accusations, but let them go into the Father's sea of forgetfulness.
-Rebekah, Missouri
___________________________________________________________
I think the biggest message I took away from retreat was that there's no room for fencing riding when it comes to Jesus. I'm either all in or I might as well just fold and walk away from the table. (I'm sitting here with a royal flush in my hand so folding would just be insanity!)
Over the last year I've become a lot more open about the things that Jesus has done in my life, and there have been times when that has been a painful thing because it has been met with rejection….
I've been feeling really strongly for awhile now, that I need to be really super grounded in the gospel in order to continue to stand against the coming persecution. I have to know who God is and who he says I am in order to know how to live in a world where we are exiles. The fish out of water thing is such a perfect description of how I've been feeling.
-Emily, Oklahoma
___________________________________________________________
The retreat was amazing. We feel so blessed to be a part of the LHM family. God spoke to my heart. He brought healing and revealed areas that I needed to confess and leave at the cross. Our God is so good!
Apple1, mom, Indiana
_____________________________________________________________
Young Adult Retreat:
One of my favorite moments was Saturday night. I told my small group this, but I was so moved to sobbing (well all night that night I was haha) as I looked out at everyone in the room. One of the reason I like to stand in the back during worship is that seeing others worship really stirs my affections for the Lord. I looked out at everyone just getting after the Lord. Knowing most of the stories of the people in the room thinking, "none of us should be here. It is only because of the Lord that we are all standing in this room. The amount of redemption and restoration in the room was just overwhelming."
Y'all blessed me beyond words.
-Amanda, Texas
___________________________________________________________
The most significant take away was an awareness of the continual presence of the Lord. The Lord does not promise that the days ahead will be easy – in fact, we can expect that they will be very difficult. This realization can lead us to one of two responses: it will either turn us toward the Lord as we trust him, or away from him as we live in fear. I do not need to be afraid, however, because I know the Lord, and he has promised that he will always be with me and will never forsake me. I am praying
– Eric, Pennsylvania
___________________________________________________________
We will never find hope in the acceptance of others, in being found desirable, in the idols we make, in our "good behavior", in our talents and giftings, or anything else this world might have to offer. Our hope is completely in the grace that God will give us as we abide in Jesus Christ.
-Zoe, California
_____________________________________________________________
I think overall it was a collection of messages where God was speaking to me. The theme was Hope-Fully in Christ. Definitely I was so encouraged, that my trials and struggles, are just for a little while and soon and very soon, I will be with God and none of it will matter. There's hope that He will conquer the world and destroy all evil. I don't need to worry. My problems are small compared to God's greatness. (not to say that God doesn't care about our problems). I can have Hope in God and in the future. I can give up my control for my life to go to med school or do whatever. Whatever God's plan is, it will be good and I can have hope. I have struggles and trials, it will be good. Bad things happen, it will be good, God is in control. I struggle with SSA, it will be fine God has me. Why am I worried? I don't have to, God has this.
No matter what goes on, after retreat I feel more confident to engage the world with this issue. More confident in myself than in years past of who I am to God. More confident that through Jesus my struggle is more under control. And that this struggle is not a big deal. It's just another sin and I need to submit it to Jesus. He has control. I can Hope fully and He will be enough.
-Thomas – Texas
____________________________________________________________
The way that we took Communion helped me to realize something: I have been looking at the Cross from a bird's eye view in my mind. I've put myself far from the events of that day as if to separate myself from the guilt and responsibility of putting Jesus on the Cross.
Walking to the amphitheater and standing under that cross crushing those grapes, I was looking up and I realized that I haven't seen the Cross from this perspective. I was just imagining Jesus hanging above me with soldiers and onlookers all around me. It was so much different than seeing the hill of Calvary from above.
I was amidst those gathered at the Crucifixion and I just felt this sense of gratefulness. That should have been me up there, and it's not. Thank you, Jesus.
– Samuel, Texas
_____________________________________________________________
The… primary lesson that I took away from this year's retreat… has to do with why God would make homosexuality a sin. I know that he is a good father, but why would he deny me something that seems so natural. I shared this on the first night in Family group and said that I guess I know that god was probably just trying to protect us. Eddie suggested that it was probably not just protection, but that he had something better. I thought to my self, "well, I guess that heterosexual relationships is the better thing" and I just moved on. On Saturday, God really pointed out to me that I think of myself as a victim; I have had such hard situations in my life that I deserve to have God let my homosexuality slide. I mean, he owes me from all of the other crap in my life, Right? Wrong! I am not a victim. I have to let go of my bitterness and resentment toward god. While taking communion, I realized that the "better thing" that god had for me was not heterosexuality, but LIFE, the love, joy, peace, patience, kindness, gentleness, goodness, and self-control that comes through being made alive in Christ. The spirit cannot dwell in sin, and this cannot be in my life if I act on my homosexual desires. This was a HUGE paradigm shift for me. This is the WHY for my struggle. It is so much more then just, "Because the bible says so". That kind of logic is unfulfilling and does not motivate true repentance.
Tim, Texas