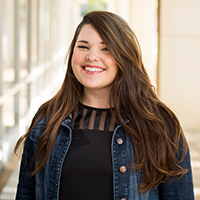 by Bonnie Scasta, Women's Ministry Director
I first came to Living Hope in the fall of 2009. I came because the issue of homosexuality is, for me, not just a cultural phenomenon seen on the news and on nearly every TV show. It is not just that thing that I know "other" people deal with, or even something that I only hear about in church while going over the story of Sodom and Gomorrah. Like many people, this issue is profoundly personal for me. This issue cuts deep into my heart. When I was three years old, after being continually unfaithful with other men, my dad left my mom, brother, and me to pursue a gay lifestyle. He is currently in a homosexual relationship.
I thought my parents divorced because of "irreconcilable differences," and Idid not become aware of my dad's homosexuality until my early teens. My mom remarried, and I became the sister sandwiched between two brothers. Growing up, my mom made sure we were in church every time the doors were open. She instilled in us early the belief that church was very important and we should be involved. I accepted Christ in second grade, and the Lord graciously grabbed my heart early.
When I found out my dad was gay, the news came as a shock and brought a wave of shame over me. I feared what other people would think of my dad and of me. I knew Jesus and knew the love of God's people, but it seemed like His love did not reach to those who were gay. I had heard the jokes, the rude remarks, and seen the judgmental looks of church people about homosexuality. I decided at that moment this was my secret and that the church wasn't a safe place for me to share. I carried on alone, shutting down the fear and pain I felt.
I did pray, though. I prayed for the Lord to change my dad. I knew He was big enough. I knew He hated the sin of homosexuality, but I also knew He loved my dad. I prayed night after night, begging the Lord to intervene. On the outside I smiled, got good grades, was a leader in my youth group, and worked hard to please everyone, including God. But on the inside, my world was falling apart.
The breaking point finally came, and I realized I had to talk with someone. I could not do this alone anymore. I shared with a few trusted friends and was met with compassion and grace, even if they did not fully understand my experience. As I moved into college, I began to share a little more openly about my dad. The outer layers of shame were slowly falling off, but I began to be burdened about this issue. I felt like the church was failing in its treatment of homosexuality. The only messages I was hearing from them was "this is sinful, shameful, and terrible, so don't do it." Then there was the message of the open and gay-affirming churches that said, "this is just who you are, and God is great with it." It seemed to me like neither of these messages were true, but I didn't know what to do about it.
Honestly, I wanted to do nothing. I wanted my dad to come to repentance and forget this was ever an issue in our lives. I was still afraid of what people would think, and I felt defined by my father's choices. The Lord, however would not let me go. I began seeking more information about homosexuality and wanted to see if there were places to help people through their same-sex attractions. I didn't know places like Living Hope existed, but I knew the Lord was asking me to do something.
After college I decided to go to seminary to get a degree in counseling knowing God was calling me to help those who were hurting. About that time, while searching online, I found Living Hope and decided to check it out.
I joined Living Hope and quickly knew I had found a home and a place of hope. I was no longer alone and the people in the friends and family support group really understood me, what I was feeling, and what I was going through.
Soon I began to also interact with the women at Living Hope. I was quickly struck by how hard they were fighting their sin and how little I fought my own. These women were putting to death their sinful desires, laying aside the identities they found in things outside of Christ, and choosing Jesus no matter the cost.
I then began to see my own sin in my relationship with a friend. I was desperate to secure a dependable, committed, and safe relationship. As a result, I had tried to get all my emotional needs met in one friendship. It was relational idolatry. I felt the Lord asking me, how could I ask my dad to give up his sin, if I was not willing to give up my own? The process of letting go of that friendship and realizing the bitterness and hurt in my heart over my dad's choices was excruciating at times. It was difficult to see how much resentment and unbelief I had been harboring. Living Hope became a refuge as I learned to feel and to be honest with the Lord. God began a maturing process in me that continues to this day.
In 2011, I became a small group leader for the women's group. Leading these amazing women brought me more joy than I thought possible. What an honor it was to be a part of the healing the Lord was doing in the lives of women.
Even with this newfound hope, I still struggled with this being my story and with how to best love my dad. I felt like if I did not do everything the "right way" with my dad and his partner, he would not see the Lord or ever feel the need to change. I struggled through my heart's motives and recognized I was trying to change my dad through my actions. I realized that I cannot do that. Only the Lord can change the heart and life of a person. I repented of my need to control, and it freed me to love my father as my dad. I do not need to focus on what is wrong in our relationship, but I simply needed to love him where he is. God will do the rest.
Though seemingly long, this journey for me is really just beginning. I have come to understand that my biggest issue is not the sin of my father. My biggest issue is me. My sin. I can so easily run to self-protection and masks of perfectionism. I can find my identity in doing good. I can be bitter and angry for the lot the Lord has given me. I am in need of God's grace daily. Each day that I choose Jesus, I see Him take this thing that has been a point of pain and shame in my life and turn into beauty. I spent years begging the Lord to change my dad. I spent years being angry that the Lord gave me this story. Then, I spent years trying to be okay that the Lord was working good from it.
As I step into the role of Director of Women's Ministry and think about the women with whom I am privileged to walk, I know that all the sorrow, struggle, and pain I experienced was worth it because of Christ. Because of Christ, I have received hope for change. Because of Christ, I have hope for change in my dad and in others. Because of Christ, I can speak His truth that transforms our hearts and lives. Because of Christ, God wants to use my story and life to walk with women at LHM and to discover the truth and hope only found in Jesus. Because of Christ, there truly is a living hope!
Please join me in praying for Living Hope and for the Women's Ministry. It truly is a joy to serve, and I am excited to see what He will do in the days ahead. Thank you for your prayers and support.